Social media has entered every bit of our lives. We wiki to learn more about a company, we watch funny videos on YouTube and share it, ZDNet is our Bible when we want to buy gadgets, we swear by Trip Advisor to plan our next vacation and visit discussion forums to discuss everything from finance to Bollywood.
So what is social media really?
Social media is creation of information by the 'wisdom of crowds' in a collaborative manner. It is all about the 'democratization of media' as no single individual owns or controls it. It is about truly engaging with users and speaking 'with' and not 'to' people.
To effectively use social media, one must follow the four golden principles:
Building Value for the Community
Allowing Users to Generate Content
Listening to People's Point of View
Seeking User Participation
For a brand to use social media to its advantage it must participate with users in their communities, listen to what they have to say and add value to their discussions thereby raising the knowledge level of that community.
Read
our Research
on Social Media How different is it from other media?
With the high levels of participation and interactivity in social media, the scope of building engagement is immense.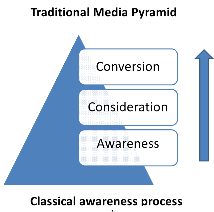 One of the key differences between these two mediums is the redefinition of 'audience' in social media. Audience in the traditional sense is somebody whom you talk to and deliver messages to; somebody whom you have a monologue with. With social media, you now dialog with your users and thereby engage with them.
Social media has changed all the rules of the game. All these years media was largely governed by a few and conformed to a norm. With social media, there is no single entity controlling the media, allowing for users to collaboratively generate content and presenting brands with an opportunity to really speak with its consumers.
However, this is not about traditional marketing vs social media marketing. Both will co-exist as each has its strengths. Marketers will have to learn to evaluate them individually and not through the same marketing lens.
Read case studies of companies using social media
here
.